Our cabins are scenically located along the shore of beautiful Lost Land Lake. Each housekeeping unit is modern and clean, and well equipped to meet vacation needs.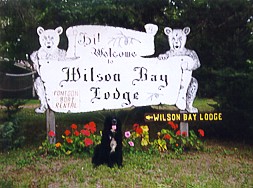 Beautiful Northwoods scenery and picturesque sunsets are an added attraction of our small, secluded resort.
All cabins are situated on level ground with a sandy beach and a private dock. Each cabin has a screened in porch and large picture windows overlooking the lake. There is sufficient distance between cabins to insure privacy. A large play area is equipped for badminton, croquet, horseshoes, and volleyball. Our beach is sandy and safe for children, and has no drop offs. Outdoor grills and picnic tables are also provided.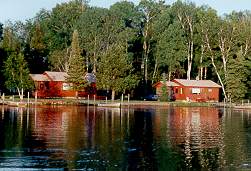 Each spacious cabin has a knotty pine interior. All have two large bedrooms, plus a hide-a-bed in the living room, giving accommodations for up to six people. Each bedroom has ample closet space. All blankets and linens, except towels are included in your rate. All cabins are complete with air-conditioning and DISH TV. Cribs and high chairs are furnished on request- please furnish your own linen and blankets for the cribs.
The modern kitchen facilities include refrigerator and gas range, dishes, cooking equipment, microwave, toasters and electric coffee makers.
After a hard day fishing, you can relax on a chaise lounge and speculate about the "one that got away." The quiet Northwoods atmosphere is excellent for relaxation. The evenings are cool after even the hottest day to insure a good night rest.
Lost Land Lake is three miles long and one and three quarters mile wide. It has a maximum depth of 25 feet with four streams flowing into the lake. In addition, there is a scenic, navigable channel into Teal Lake- also noted for its Musky fishing. The two lakes provide uncrowded and quite waters with no water skiing or motor trolling.
Fishermen can match their wits against the wily Musky, Northern, Walleye Pike, Bass, Crappies, and Panfish. Also offered to our guests at no extra charge is our deep freeze service. For your convenience we have screened in fish cleaning house, with running water & lights.
One Aluma Craft 14' boat is included with each cabin rental. A speed limit of 10 m.p.h. is enforced on the lake to preserve the rights of the fisherman. Extra boats, motors and pontoons are also available for rental upon request, by the day or week. Gas and oil for motors for sale here.
Hunters will enjoy the large area open for ruffed grouse (partridge). We are open for partridge and bow and arrow season.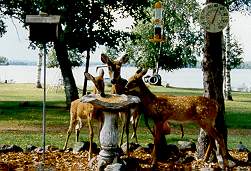 An early Spring or late Fall vacation to Wilson Bay Lodge may provide one of the most satisfying vacations you have ever experienced. In addition to the fishing, Autumn presents a wonderama of color to the eye and camera.
Activities nearby: Fish many small, secluded nearby lakes and streams, Golf several 18- and four 9-hole courses, Tennis, Horseback riding, Cowboy Polo, Indian Pow Wows, Barn dances and horse shows, Water ski shows, Fishing Hall of Fame, Many fine restaurants, 50 miles from Lake Superior with the Apostle Island National Park and lake trout fishing,
Copper Falls State Park, Duluth-Superior harbor tours.
Churches are located nearby. Some of the finest eating places in Northern Wisconsin are also in the vicinity.
We know you will have a wonderful time in our relaxed and congenial atmosphere. You're welcome to look over our resort for future reservations at any time. Do plan to visit us soon. Click here for the Wilson Bay Brochure!
From the first Saturday in May to the second Saturday in October, our week begins on Saturday at 3:00 P.M. or thereafter, and ends on Saturday at 9:00 A.M.